About Rick's Rock Walls
Rick's Rock Walls construct wet walls, made using concrete and dry stack walls(traditional style wall not using concrete). We can build steps and paths to create that special place in your garden,or construct walkways and stairs  in those heavy traffic areas. We offer a choice of stone and rock to be used in your wall construction. (schist,river stone and volcanic rock, to name a few).
Rick's Rock Walls will also do repairs, so if the grout/pointing (concrete between the stones/rocks) is cracked or missing,we will fix it. Often when erecting new retaining walls or repairing damaged retaining walls some landscaping and/or design is required. We are also proficient in this as well as entrance ways,fireplaces,letter boxes,wishing wells, all come under the umbrella of our expertise.
Rick's Rock Wall has completed the PREQUAL contractor prequalification and the prequalification assessment has been completed. PREQUAL is a New Zealand first. We offer a client led, fully outsourced, pan-industry contractor  prequalification scheme. PREQUAL is backed by Impac Services Ltd, New Zealand's leading provider of risk and safety management solutions

You will be able to use SiteWise to make better – informed construction contractor selections, making the tendering process more simple and efficient. Contractors complete a 12 step questionnaire, which is assessed by our qualified team of health and safety practitioners. This results in a percentage score which is published in the SiteWise contractor database, and can be accessed by main contractors or principal organisations who have signed up to use SiteWise.
This prequalification database was created in response to the influx of construction contractors and subcontractors into Christchurch after the Canterbury earthquakes. After success in Canterbury the system was rolled out nationwide and now sees a large number of principals organisations using the tool to enable them to:
View all tendering contractor prequalification results in one place
Create shortlists based on health and safety assessment results
View contractor health and safety performance across different worksites.
Ricks Rock walls has been Sitewise assessed and has achieved GREEN with a score of 85.

Hogar Caritas Felices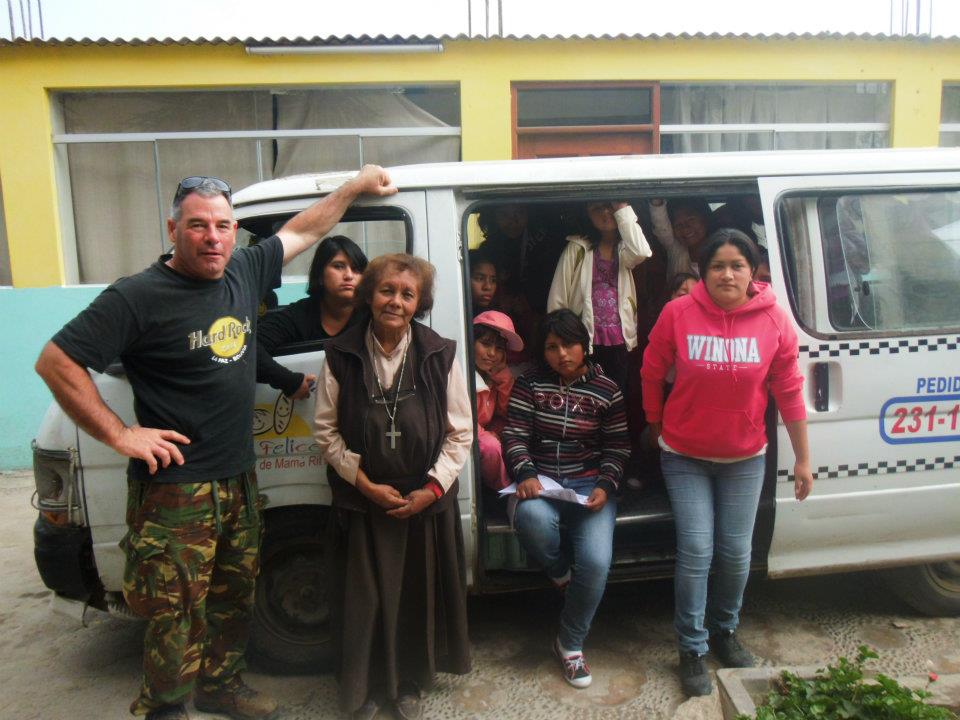 Help Richard with his Charity
As well as building really great walls Richard from Ricks Rock Walls also enjoys to help in the wider community, one such project is a children's home in Peru, click the link to find out more
The Orphanage was Founded in the year 2000 by sister Rita de Zizzold (Mamá Rita). In Peru there are many unfortunate events that children are forced upon. Most children do not have opportunities that first world children have. Mamá Rita seeks to save children's lives and reduce human suffering, protect and restore livelihoods. Her main mission was to help little girls that were being sexually abused by their own relatives, as well as others. The Orphanage "CARITAS FELICES DEL NIÑO JESUS DE PRAGA" nowadays is called "UNIENDO CORAZONES".
Mamá Rita is unfortunately now suffering from the disease Alzheimer. Alzheimer is a neuro degenerative disease. She is in need of special treatment. For this reason, the administration of the orphanage was sadly neglected. The benefactors were running away and she did not even realize. Nowadays the association is lead by misses Monica Quintanilla Banddin. She is the last of four brothers and Monica is now dedicating her life to carry on with all the hard work that Monica's mother has put into this amazing orphanage.